Events
NICO Research Jam
Northwestern Institute on Complex Systems (NICO)
12:00 PM
//
Lower Level, Chambers Hall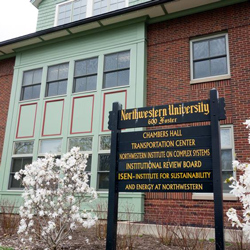 NICO is excited to host its inaugural research jam. The research jam is an informal, transdisciplinary brainstorming event to plant seeds of new research ideas and collaborations in the graduate student and postdoctoral fellow NICO community.
We are inviting YOU to submit topics you'd like to lead a discussion on.
We are looking for topics that you don't have an answer to! We welcome questions in any discipline, or even better, those that cross disciplines.
If you want to explore ideas from other fields instead, register now and choose which brainstorming group you want to join at the event.
To sign up for the research jam, please register at http://bit.ly/nicojam.
If you would like to submit a topic, please fill out the last question on the registration with a short blurb about your idea and be prepared to give a short, informal presentation at the event to excite others about your idea's potential!
The research jam will take place on May 23, 2018 with the following schedule:
12:00 - 12:30pm - Introduction, topic pitches, form groups
12:30 - 2:00pm - Brainstorming sessions
2:00 - 2:30pm - Informal presentation on outcomes
click to see full description

more
click to hide full description

less
Wednesday, May 23, 2018 at 12:00 PM - 2:30 PM
Lower Level, Chambers Hall Map
Northwestern Institute on Complex Systems (NICO)