Events
WED@NICO SEMINAR: Julio M. Ottino, Northwestern Engineering "THE NEXUS - Augmented Thinking for a Complex World - The New Convergence of Art, Technology, And Science"
Northwestern Institute on Complex Systems (NICO)
12:00 PM
//
Lower Level, Chambers Hall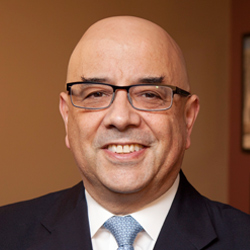 Speaker:
Julio M. Ottino - Dean, McCormick School of Engineering and Applied Science, Northwestern University
Title:
THE NEXUS - Augmented Thinking for a Complex World - The New Convergence of Art, Technology, And Science
Abstract:
Today, more urgently than ever, we need to augment our thinking. The world faces enormous challenges of unprecedented complexity—problems that intertwine in a dizzyingly interconnected, interdependent, and changing landscape. The demands are clear: we must adopt new ways of thinking and working that cross the boundaries of classical knowledge and practice; creativity must increase, and execution must excel. How can we augment our thinking spaces to increase creative solutions? How can we make those solutions real by mastering complexity? By working at the Nexus, where art, technology, and science converge.
Speaker Bio:
Julio Mario Ottino is an internationally renowned thought leader, engineering scientist and researcher, author, educator, and administrator, with interests spanning many fields. His research work is centered on chaos theory and complex systems; his initial passions were split between painting and math and engineering; deeply interested in the intersection between art, technology, and science, he also made incursions in the links between engineering with humanities and law. As dean of engineering and applied science at Northwestern University, he founded initiatives in design, entrepreneurship, and energy and sustainability He has been listed in the "One Hundred Engineers of the Modern Era" by the American Institute of Chemical Engineers. He is a Fellow of the American Physical Society and the American Association for the Advancement of Science. He has been a Guggenheim Fellow and is a member of the National Academy of Engineering and the American Academy of Arts and Sciences. In 2017, he was awarded the Bernard M. Gordon Prize for Innovation in Engineering and Technology Education from the National Academy of Engineering.
Location:

In person: Chambers Hall, 600 Foster Street, Lower Level
Remote option: https://northwestern.zoom.us/j/92466241180
Passcode: NICO22
About the Speaker Series:
Wednesdays@NICO is a vibrant weekly seminar series focusing broadly on the topics of complex systems and data science. It brings together attendees ranging from graduate students to senior faculty who span all of the schools across Northwestern, from applied math to sociology to biology and every discipline in-between. Please visit: https://bit.ly/WedatNICO for information on future speakers.
click to see full description

more
click to hide full description

less
Wednesday, September 28, 2022 at 12:00 PM - 1:00 PM
Lower Level, Chambers Hall Map
Northwestern Institute on Complex Systems (NICO)