Events
WED@NICO SEMINAR: Luis M Rocha, Binghamton University "Redundancy in the Structure and Dynamics of Complex Systems"
Northwestern Institute on Complex Systems (NICO)
12:00 PM
//
Lower Level, Chambers Hall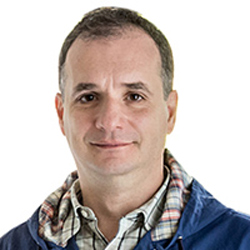 Speaker:
Luis M Rocha, George J. Klir Professor of Systems Science, Binghamton University - State University of New York
Title:
Redundancy in the Structure and Dynamics of Complex Systems
Abstract:
As the current COVID-19 pandemic demonstrates, our social lives and overall public health depend heavily on interactions that cross scales from the molecular networks of minute pathogens to all our transportation, health, economy, ecology, and governance networks. The study of networks that quickly link the tiniest virus to the most potent economy has been pursued by the interdisciplinary field of complex networks & systems (CNS), which aims to find and simplify commonalities among networks that are measured and studied at various scales in the natural and social sciences. While most advances in CNS have come from the study of patterns of connectivity (network structure), which provides many insights into the organization of complex systems, a critical gap remains in understanding how the structure of networks affects the dynamics of complex systems. For instance, in brain networks we do not know how synaptic connectivity leads to the dynamical patterns of functional connectivity that are responsible for human behavior. Likewise, while we know much about the connectivity of gene and protein regulation from existing systems biology models, the structure of interactions from these models is not sufficient to predict regulatory dynamics or derive control strategies that allow us, for instance, to revert a diseased cell to a healthy state.
Our lab has been working to addresses this critical gap with an original insight: in addition to patterns of connectivity and patterns of dynamics, there are important patterns of redundancy which dictate how structure affects dynamics in networks. Regarding structural redundancy, we present the distance backbone of a network: a sub-graph that is sufficient to compute all shortest paths on a weighted graph. The size of the backbone subgraph, in relation to the size of the original graph, defines the amount of redundancy in the network: edges not on this backbone are superfluous in the computation of shortest paths. We demonstrate that the distance backbone is very small in large networks across domains including social contact (in epidemiological models), gene regulation (in evolution, development and disease) and the human brain connectome, revealing that network robustness to attacks and failures seems to stem from surprisingly vast amounts of redundancy. Regarding dynamical redundancy, we present the effective graph, a probabilistic graph that captures the nonlinear interactions that are sufficient for biochemical network regulation, signaling, and control. Using 78 experimentally validated models derived from systems biology, we demonstrate that redundant pathways are prevalent in biological models of biochemical regulation and show that the effective graph provides an accurate explanation of how dynamical perturbation and control signals, such as those induced by cancer drug therapies, propagate in biochemical pathways.
Speaker Bio:
Luis M. Rocha is the George J. Klir Professor of Systems Science at the Thomas J. Watson College of Engineering and Applied Science, Binghamton University (State University of New York), where he leads the Complex Adaptive Systems and Computational Intelligence (CASCI) lab. He is also director of the Center for Social and Biomedical Complexity, between Binghamton University and Indiana University, Bloomington. His research is on complex networks & systems, computational & systems biology, and computational intelligence.
Location:

In person: Chambers Hall, 600 Foster Street, Lower Level
Remote option: https://northwestern.zoom.us/j/92190854861
Passcode: NICO2022
About the Speaker Series:
Wednesdays@NICO is a vibrant weekly seminar series focusing broadly on the topics of complex systems and data science. It brings together attendees ranging from graduate students to senior faculty who span all of the schools across Northwestern, from applied math to sociology to biology and every discipline in-between. Please visit: https://bit.ly/WedatNICO for information on future speakers.
click to see full description

more
click to hide full description

less
Wednesday, May 11, 2022 at 12:00 PM - 1:00 PM
Lower Level, Chambers Hall Map
Northwestern Institute on Complex Systems (NICO)