Events
WED@NICO SEMINAR: Madalena Damásio Costa, Harvard Medical School "Biological vs Chronological Aging: New, Dynamical Approach to Assessing Health Status"
Northwestern Institute on Complex Systems (NICO)
12:00 PM
//
Lower Level, Chambers Hall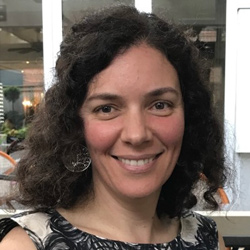 Speaker:
Madalena Damásio Costa, Assistant Professor of Medicine, Harvard Medical School
Title:
Biological vs Chronological Aging: New, Dynamical Approach to Assessing Health Status
Abstract:
From molecular to cellular to systemic levels, attention is increasingly targeted at developing novel biomarkers to distinguish biological (physiological) from chronological
(temporal) aging. Interest is kindled by proposed interventions to retard or even reverse
the pace of aging, perhaps en route to the elusive "fountain of youth." My talk will focus
on a new way, termed heart rate fragmentation, to analyze the subtle beat-to-beat
fluctuations generated by the heart's intrinsic pacemaker (the sinoatrial node). This work
has led to the development of a "dynamical assay" to assess overall health status with
applications to the prediction of major adverse cardiac events and all-cause mortality.
Interventions that fundamentally slow or reverse the pace of biological aging, via their
system-wide effects, should be associated with a decrease in the degree of heart rate
fragmentation and possibly with a reemergence of the non-fragmented ("fluent")
patterns associated with youthful heart rate dynamics. This work is based on a basic
concept in physics, namely that information about a system is encoded in the
fluctuations generated by that system, not just in average and variance values.
Speaker Bio:
Madalena Damasio Costa, PhD, is a statistical physicist concentrating in physiologic signal analysis. She did her undergraduate and graduate training at the Faculty of Sciences in Lisbon, Portugal. She is currently Assistant Professor of Medicine at Harvard Medical School and a member of the Division of Interdisciplinary Medicine and Biotechnology at Beth Israel Deaconess Medical Center in Boston. She is also Co-director of the Margret and H.A. Rey Institute for Complex Physiologic Signals in Physiology and Medicine. Her work on complex (nonlinear) systems is supported by grants from the National Institutes of Health.
Location:
Note: this speaker will be remote, however, attendees are still welcome to join us in the lower level of Chambers Hall. Refreshments will be provided following the talk.

In person: Chambers Hall, 600 Foster Street, Lower Level
Remote option: https://northwestern.zoom.us/j/95511411210
Passcode: NICO2022
About the Speaker Series:
Wednesdays@NICO is a vibrant weekly seminar series focusing broadly on the topics of complex systems and data science. It brings together attendees ranging from graduate students to senior faculty who span all of the schools across Northwestern, from applied math to sociology to biology and every discipline in-between. Please visit: https://bit.ly/WedatNICO for information on future speakers.
click to see full description

more
click to hide full description

less
Wednesday, May 4, 2022 at 12:00 PM - 1:00 PM
Lower Level, Chambers Hall Map
Northwestern Institute on Complex Systems (NICO)