Events
WED@NICO SEMINAR: Anjali Bhatt, Harvard Business School "Who Switches Cultural Codes? Evidence from an Organizational Merger"
Northwestern Institute on Complex Systems (NICO)
12:00 PM
//
Lower Level, Chambers Hall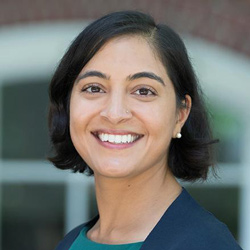 Speaker:
Anjali Bhatt - Assistant Professor, Harvard Business School, and Complexity Fellow, Santa Fe Institute
Title:
Who Switches Cultural Codes? Evidence from an Organizational Merger
Abstract:
What explains variation in how individuals adapt in culturally heterogeneous contexts? The most consequential cultural dynamics often occur at the intersection of multiple social groups and cultural codes, yet research on social learning and adaptation has predominantly focused on intragroup contexts and conformity to a single group culture. In this talk, I investigate the relationship between these two instances of cultural adaptation – intragroup conformity and intergroup code-switching. Theoretically, conformity may alternately indicate an individual's capacity to learn and adapt to cultural codes ("skill") or an individual's signal of commitment to their group ("will"). I propose that these two theories can be disentangled based on individuals' intragroup social status: low status individuals who exhibit intragroup conformity may be more likely to switch cultural codes in intergroup contexts, while high status individuals who exhibit intragroup conformity may tend to culturally entrench when exposed to multiple codes. I find evidence for these ideas by applying the tools of computational linguistics to a unique dataset of 1.5 million employee emails and personnel records from before and after an organizational merger of two U.S. regional banks. To circumvent the assumption of cultural homogeneity (a critical challenge for measuring culture), I exploit a random forest classifier to categorize the linguistic styles of messages as either breaching or conforming to existing cultural codes. I discuss implications for status-based theories of cultural boundary work, cultural adaptation in heterogenous contexts, and post-merger cultural dynamics.
Speaker Bio:
Anjali Bhatt is an Assistant Professor in the Organizational Behavior Unit at HBS and a Fellow at the Santa Fe Institute for the study of complex adaptive systems. Professor Bhatt completed her PhD in organizational behavior from Stanford GSB and her AB in physics and chemistry from Harvard College. Professor Bhatt's research investigates structural and cultural change in organizations, including the dynamics of hiring, M&A, and reorganizations. Her work employs a variety of computational methods, including simulations, natural language processing, and machine learning.
Location:

In person: Chambers Hall, 600 Foster Street, Lower Level
Remote option: https://northwestern.zoom.us/j/91615317110
Passcode: NICO2022
About the Speaker Series:
Wednesdays@NICO is a vibrant weekly seminar series focusing broadly on the topics of complex systems and data science. It brings together attendees ranging from graduate students to senior faculty who span all of the schools across Northwestern, from applied math to sociology to biology and every discipline in-between. Please visit: https://bit.ly/WedatNICO for information on future speakers.
click to see full description

more
click to hide full description

less
Wednesday, April 20, 2022 at 12:00 PM - 1:00 PM
Lower Level, Chambers Hall Map
Northwestern Institute on Complex Systems (NICO)