Events
WED@NICO WEBINAR: Fabián Bustamante, Northwestern University "Networked Systems as Witnesses - Content Demand, Human Mobility and an Infection Spread"
Northwestern Institute on Complex Systems (NICO)
12:00 PM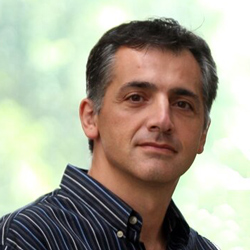 Speaker:
Fabián Bustamante - Professor, Department of Computer Science, Northwestern University
Title:
Networked Systems as Witnesses - Content Demand, Human Mobility and an Infection Spread
Abstract:
While non-pharmaceutical interventions such as stay-at-home, shelter-in-place, and school closures are considered the most effective ways to limit the spread of infectious diseases, their use is generally controversial given the political, ethical, and socioeconomic issues they raise. Part of the challenge is the non-obvious link between the level of compliance with such measures and their effectiveness. In this talk, I will present some recent work arguing that users' demand on networked services can serve as a proxy for the social distancing behavior of communities, offering a new approach evaluating these measures' effectiveness. For this study, we leverage the vantage point of one of the largest worldwide content distribution networks (CDNs) together with publicly-available datasets of mobile users' behavior, to examine the relationship between changes in user demand on the CDN and different interventions including stay-at-home/shelter-in-place, mask mandates, and school closures. As networked systems become integral parts of our everyday lives, they can act as witnesses of our individual and collective actions. Our study illustrates the potential value of this new role.
Speaker Bio:
Fabián E. Bustamante is a Professor in the Department of Computer Science at Northwestern University and Director of Research at Phenix RTS, a Chicago startup focused on real-time streaming. He is a senior member of the IEEE and ACM and has received a number of recognitions for his work, including the National Science Foundation CAREER Award, multiple Google Faculty Awards and the Science Foundation of Ireland E.T.S. Walton Visitor Award. Fabián's research falls largely in the area of computer networks and distributed systems, with an emphasis on characterizing large-scale systems from the perspective of end users and designing new and improved systems based on the gain insights. Much of his recent work is focused on characterizing the criticality of networked systems, from the global submarine cable network to the web, and the challenges they face, including environmental threats, market centralization trends and black swan events.
Webinar:
https://northwestern.zoom.us/j/98506372780
Passcode: NICO2022
About the Speaker Series:
Wednesdays@NICO is a vibrant weekly seminar series focusing broadly on the topics of complex systems and data science. It brings together attendees ranging from graduate students to senior faculty who span all of the schools across Northwestern, from applied math to sociology to biology and every discipline in-between. Please visit: https://bit.ly/WedatNICO for information on future speakers.
click to see full description

more
click to hide full description

less
Wednesday, March 9, 2022 at 12:00 PM - 1:00 PM
Northwestern Institute on Complex Systems (NICO)