Events
WED@NICO WEBINAR: Staša Milojević, Indiana University, Bloomington "Capturing Tectonic Shifts in Contemporary Science"
Northwestern Institute on Complex Systems (NICO)
12:00 PM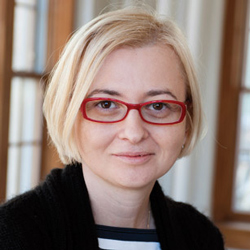 Speaker:
Staša Milojević, Associate Professor, Department of Informatics, Indiana University, Bloomington
Title:
Capturing Tectonic Shifts in Contemporary Science
Abstract:
In order to help solve increasingly complex outstanding problems and questions, contemporary science has adopted new approaches to knowledge production that are predominantly team based and are less confined by disciplinary boundaries. The character of the social, institutional and intellectual aspects of science and their interplay is very complex, and requires new approaches. In this talk I will showcase some of the studies that use the data from scientific publications to shed light on contemporary research practices, research teams, research workforce, interdisciplinarity, and citation dynamics.
Speaker Bio:
Staša Milojević is an Associate Professor in the Luddy School of Informatics, Computing, and Engineering, the director of Center for Complex Networks and Systems Research, a core faculty of Cognitive Science program, and a fellow of Rob Kling Center for Social Informatics at Indiana University, Bloomington. Her research endeavors to elucidate the dynamics of science as a social and an intellectual (cognitive) endeavor by approaching science as a heterogeneous system comprising of people, ideas, documents, instruments, institutions, and policies situated in an historical context. Specifically, she strives to produce comprehensive, yet straightforward models based on theoretical and empirical findings from a wide range of fields in order to uncover and explain the fundamental principles that govern contemporary science.
Webinar:
https://northwestern.zoom.us/j/98776071017
Passcode: NICO2022
About the Speaker Series:
Wednesdays@NICO is a vibrant weekly seminar series focusing broadly on the topics of complex systems and data science. It brings together attendees ranging from graduate students to senior faculty who span all of the schools across Northwestern, from applied math to sociology to biology and every discipline in-between. Please visit: https://bit.ly/WedatNICO for information on future speakers.
click to see full description

more
click to hide full description

less
Wednesday, February 23, 2022 at 12:00 PM - 1:00 PM
Northwestern Institute on Complex Systems (NICO)