Events
WED@NICO WEBINAR: Elsa Arcaute, University College London "Hierarchical organisation: from fractals to fractions "
Northwestern Institute on Complex Systems (NICO)
12:00 PM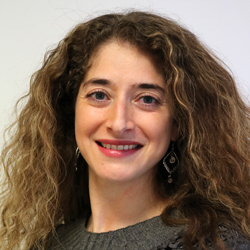 Speaker:
Elsa Arcaute, Associate Professor, Centre for Advanced Spatial Analysis, University College London
Title:
Hierarchical organization: from fractals to fractions
Abstract:
In this talk we will look at the urban patterns that we have created, which characterise our cities, and our urban systems in general. Some of them seem to correspond to a collective effort to reproduce our innate structure, while others seem to reflect the necessity to belong to a differentiated community.
Speaker Bio:
Elsa Arcaute is a Professor of Complexity Science at the Bartlett Centre for Advanced Spatial Analysis (CASA) at University College London (UCL). She holds a masters and a PhD in theoretical physics from the University of Cambridge, where she applied Clifford algebras to the problem of constructing a space for general relativity and quantum mechanics using Penrose's Twistors formalism. In 2006, she moved to the field of Complexity Science, when joining the Complexity and Networks group at Imperial College London to study self-organisation in ant colonies. For the past 10 years she has dedicated her research to the study of urban systems, focusing on understanding the emergence of hierarchies, the characterisation of resilience, the definition of cities, and the emergence of innovation.
Webinar:
https://northwestern.zoom.us/j/97039043316
Passcode: nico
About the Speaker Series:
Wednesdays@NICO is a vibrant weekly seminar series focusing broadly on the topics of complex systems and data science. It brings together attendees ranging from graduate students to senior faculty who span all of the schools across Northwestern, from applied math to sociology to biology and every discipline in-between. Please visit: https://bit.ly/WedatNICO for information on future speakers.
click to see full description

more
click to hide full description

less
Wednesday, October 13, 2021 at 12:00 PM - 1:00 PM
Northwestern Institute on Complex Systems (NICO)