Events
WED@NICO WEBINAR: David Ferrucci, Elemental Cognition "Machine Understanding in Context"
Northwestern Institute on Complex Systems (NICO)
12:00 PM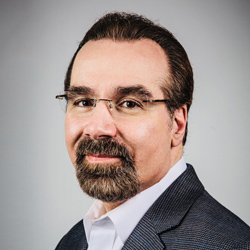 Speaker:
David Ferrucci, Founder, CEO, and Chief Scientist, Elemental Cognition. Adjunct Professor of Management and Organizations, Kellogg School of Management, Northwestern University
Title:
Machine Understanding in Context
Abstract:
The ability for machines to read, understand and reason about natural language would dramatically transform the knowledge economy across all industries. Watson was a landmark in Artificial Intelligence – the first powerful machine learning language system that could find precise answers to uniquely worded questions. While Watson outperformed the best, it did not understand what it read. Even today's latest Deep Learning marvel, Open-AI's GPT3, does not understand what it reads. These machines are more like super parrots than intelligent experts. Designed to find and mimic word patterns, they lack any rational explanation for why or what it all means. These approaches, while powerful, are alone not fit for rational problem solving and transparent decision making. And yet we need machines to engage with us at a rational level for us to take responsibility for their predictions.
While no one has a general Artificial Intelligence capable of reading and synthesizing all human knowledge quite yet, Elemental Cognition has created an AI/NLU platform that can deliver real differentiated value in Collaborative and Conversational AI and Knowledge Management by combing Deep Learning, NLP, Automated Reasoning and multiple modes of learning.
In this talk, I will describe the challenges with pure Machine Learning approaches, raise the bar for machine understanding and demonstrate how advances in NLU and a hybrid AI architecture can transform how humans and machines can collaborate to solve problems and transform our knowledge economy.
Speaker Bio:
David Ferrucci is the CEO, Founder and Chief Scientist of Elemental Cognition. Established in 2015, Elemental Cognition is an AI company focused on deep natural language understanding and explores methods of learning that result in explicable models of intelligence. Elemental Cognition's mission is to change how machines learn, understand, and interact with humans. Elemental Cognition envisions a world where AI technology can serve as thought partners through building a shared understanding and is capable of revealing the 'why' behind it's answer.
Dr. Ferrucci is the award-winning Artificial Intelligence Researcher who built and led the IBM Watson team from its inception through its landmark Jeopardy success in 2011. Dr. Ferrucci was awarded the title of IBM Fellow in 2011 and his work in AI earned numerous awards including the CME Innovation award and the AAAI Feigenbaum Prize. From 2011 through 2012, Dr. Ferrucci pioneered Watson's applications which helped lay the technical foundation for the IBM Watson Division. After nearly 20 years at IBM research, Dr. Ferrucci joined Bridgewater Associates in 2013 to explore applications of AI in markets and management based on a synergy with Bridgewater's deep commitment to explicable machine intelligence.
Dr. Ferrucci graduated from Rensselaer Polytechnic Institute with a Ph.D. in Computer Science. He has 50+ patents and published papers in the areas of AI, Automated Reasoning, NLP, Intelligent Systems Architectures, Automatic Text Generation, and Automatic Question-Answering. He led numerous projects prior to Watson including AI systems for manufacturing, configuration, document generation, and standards for large-scale text and multi-modal analytics. Dr. Ferrucci has keynoted in highly distinguished venues around the world including many of the top computing conferences. He has been interviewed by many media outlets on AI including: The New York Times, PBS, Financial Times, Bloomberg and the BBC. Dr. Ferrucci serves as an Adjunct Professor of Entrepreneurship and Innovation at Kellogg School of Management at Northwestern University.
Webinar:
Zoom link: https://northwestern.zoom.us/j/97818922688
Passcode: nico
About the Speaker Series:
Wednesdays@NICO is a vibrant weekly seminar series focusing broadly on the topics of complex systems and data science. It brings together attendees ranging from graduate students to senior faculty who span all of the schools across Northwestern, from applied math to sociology to biology and every discipline in-between. Please visit: https://bit.ly/WedatNICO for information on future speakers.
click to see full description

more
click to hide full description

less
Wednesday, May 5, 2021 at 12:00 PM - 1:00 PM
Northwestern Institute on Complex Systems (NICO)