Events
WED@NICO SEMINAR: Michelle Birkett, Northwestern Feinberg Medicine "Bias in Big Data"
Northwestern Institute on Complex Systems (NICO)
12:00 PM
//
Lower Level, Chambers Hall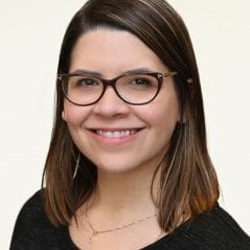 Speaker:
Michelle Birkett - Assistant Professor, Department of Medical Social Sciences; Director, CONNECT Complex Systems and Health Disparities Research Program, Feinberg School of Medicine, Northwestern University
Title:
Bias in Big Data
Abstract:
Our society increasingly relies on data to guide all forms of decision making. This cost-effective, data-led decision making, particularly when guided by unsupervised analytical methods, is often assumed to be free of human bias. However, from hiring decisions to predictive policing, poor Black and Brown populations have been shown to be disproportionately impacted across a wide variety of domains. Less is known, however, about the impact of these systems on sexual and gender minority (SGM) populations and the intersecting identities individuals may hold.

Finding solutions to these problems is immensely complex, and requires the input of a wide range of stakeholders. However, spaces like these are rare. Therefore, the Bias in Big Data 2019 Workshop was organized by the CONNECT Complex Systems and Health Disparities Research Program and held in July 2019 at the Institute for Sexual and Gender Minority Health and Wellbeing. It was organized to be a space to bring together diverse stakeholders across various sectors to discuss solutions, and amplify the good work already being done. Approximately 50 in-person and 800 online participants attended the half day meeting, representing public health, community organizations, data scientists in the private sector, and academics from over 20 universities.

This talk will articulate the six primary themes which emerged from conversations over the course of the workshop and outline a number of recommendations that we believe can be taken up by broad groups of stakeholders – especially academics. The talk will also highlight next steps for this work, including the release of White Paper and a monthly newsletter project which we hope will build important bridges between sectors and disciplines.
Speaker Bio:
Michelle Birkett is a psychologist and Assistant Professor in the Department of Medical Social Sciences at Northwestern University. She also directs the CONNECT Complex Systems and Health Disparities Research Program within the Institute for Sexual and Gender Minority Health and Wellbeing and been a member of NICO's Executive Committee since 2016. Dr. Birkett's research uses network and quantitative methodologies to understand the social contextual influence of stigma on the health and wellbeing of marginalized populations, and in particular, sexual and gender minority youth. This work is influenced by a multilevel perspective of health that considers direct and indirect influences of multiple levels of the social and physical environment. Dr. Birkett has led multiple NIH-funded projects and has a wealth of expertise in the collection and analysis of network data. She is a principal investigator of Network Canvas, a free and open source NIH-funded software for the collection of social network data. She is also an NIH Career Awardee for her work understanding network, multilevel, and contextual influences on racial disparities in HIV. An author of more than 50 articles, Dr. Birkett is widely published and her work has been covered in popular outlets such as The Atlantic, Reuters, and Wired. In 2018 she was selected as an inaugural member of the New Voices Program of The National Academies of Sciences, Engineering, and Medicine, an initiative to promote new and diverse scientific voices within the National Academies.
About the Speaker Series:
Wednesdays@NICO is a vibrant weekly seminar series focusing broadly on the topics of complex systems and data science. It brings together attendees ranging from graduate students to senior faculty who span all of the schools across Northwestern, from applied math to sociology to biology and every discipline in-between.
Live Stream:
click to see full description

more
click to hide full description

less
Wednesday, February 12, 2020 at 12:00 PM - 1:00 PM
Lower Level, Chambers Hall Map
Northwestern Institute on Complex Systems (NICO)