Events
WED@NICO SEMINAR: Matt Goldrick, Northwestern Department of Linguistics "Echoes of Cognition in Pronunciation Variation"
Northwestern Institute on Complex Systems (NICO)
12:00 PM
//
Lower Level, Chambers Hall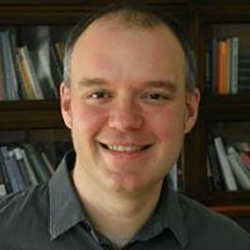 Speaker:
Matt Goldrick, Professor, Department of Linguistics, Weinberg College of Arts and Sciences, Northwestern University
Title:
Echoes of Cognition in Pronunciation Variation
Abstract:
Language is the key means by which we share our internal thoughts with others. We clearly do this by choosing particular combinations of words to speak. Speech, however, is a very rich source of information, providing many opportunities for communication over and above a sequence of words. I'll discuss work from my research group showing how small changes in the way we pronounce sounds (e.g., elongating or shortening an individual consonant) reflect the internal process of speech planning. When speech is difficult to plan, sounds are distorted in predictable ways, including increases in accent for bilinguals speakers. I'll then discuss how my lab (and the field in general) is moving away from relatively small, expert-annotated data sets to machine learning based methods for automated speech analysis of large corpora. I'll conclude by discussing current work investigating the promise of such methods for understanding mental disorders such as psychosis. (Research supported by the National Institutes of Health and National Science Foundation.)
Speaker Bio:
Matt Goldrick is professor of Linguistics (and, by courtesy, Psychology) in Weinberg, affiliated with the Cognitive Science Program, NUIN, and NICO. His research combines behavioral experiments and computational modeling to reveal the nature of the mental and neural processes underlying the production and comprehension of speech.
Live Stream:
click to see full description

more
click to hide full description

less
Wednesday, May 8, 2019 at 12:00 PM - 1:00 PM
Lower Level, Chambers Hall Map
Northwestern Institute on Complex Systems (NICO)