Events
WED@NICO SEMINAR: Dervis Can Vural, University of Notre Dame "Evolution of specialization and social cooperation in dynamic fluids"
Northwestern Institute on Complex Systems (NICO)
12:00 PM
//
Lower Level, Chambers Hall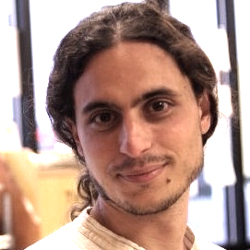 Speaker:
Dervis Can Vural, Assistant Professor, Department of Physics, University of Notre Dame
Title:
Evolution of specialization and social cooperation in dynamic fluids
Abstract:
Put a a single microbe in a puddle, take a stroll for a few billion years, and when you are back, you might find something as astonishing as a coral reef or a rainforest. Somehow, over time, species radiate into novel ones, their inputs and outputs diversify, and their needs and provisions mingle by a process that appears entropic in nature. How do species start depending on one other, how do these interactions change over time, and what role does the laws of physics play in this process? In this talk I will present analytical and computational descriptions of how the transport properties of a fluid determine whether the evolution of species will be driven towards individualism, social cooperation, specialization, or extinction. I will end my talk by proposing ways to tailoring the interaction structure of a microbial community by manipulating flow patterns and domain geometry.
Speaker Bio:
Dervis Can Vural is an Assistant Professor specializing in condensed matter and biophysics. Professor Can Vural is interested in systems where (1) disorder and (2) strong interactions plays an important role. He uses analytic and computational approaches to solve many-body problems in statistical mechanics, condensed matter physics, and theoretical biology. Research themes include complex networks, population genetics and evolution, disordered / soft materials, many-body quantum mechanics, inverse problems, reliability theory, swarms and active matter.
Live Stream:
click to see full description

more
click to hide full description

less
Wednesday, April 17, 2019 at 12:00 PM - 1:00 PM
Lower Level, Chambers Hall Map
Northwestern Institute on Complex Systems (NICO)