Events
WED@NICO SEMINAR: Caterina Gratton, Northwestern Dept of Psychology "Functional Networks and Hubs in the Human Brain"
Northwestern Institute on Complex Systems (NICO)
12:00 PM
//
Lower Level, Chambers Hall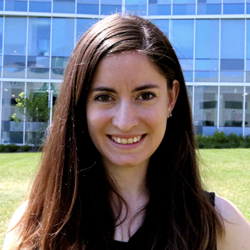 Speaker:
Caterina Gratton, Assistant Professor, Department of Psychology, Weinberg College of Arts and Sciences, Northwestern University
Title:
Functional Networks and Hubs in the Human Brain
Abstract:
The human brain is organized into large-scale networks, or systems, of interacting brain regions. These interactions can be measured in living humans with functional Magnetic Resonance Imaging (fMRI), by measuring correlations in the patterns of activity between different regions. Increasingly sophisticated techniques enable the mapping of brain networks at unprecedented levels of detail, but many questions still remain. In this presentation, I will tackle three recent studies that we have undertaken to better understand human functional brain networks and their contributions to brain function. In the first study, we examine whether the topology of brain networks – specifically, the presence of connector hub regions – is important for brain function, by examining the consequences of damage to these regions. In the second study, we examine the variability in brain networks within and across subjects at different time-scales. Finally, I will present on very recent work, looking in detail at the characteristics of individual differences in brain networks. Jointly, these studies suggest that network topology has important implications for human brain function, and that measures of network organization are stable features that can be used to measure trait-like variability in brain organization.
Speaker Bio:
Dr. Gratton is currently an Assistant Professor in the Psychology Department at Northwestern University, with a secondary appointment in the Department of Neurology and affiliations with the NUIN and the Cognitive Science Program. Dr. Gratton received her B.S. from the University of Illinois in Psychology and Neuroscience and her Ph.D. in Neuroscience from the University of California, Berkeley, where she worked with Mark D'Esposito and Michael Silver. Afterward, she was a postdoctoral fellow with Steve Petersen at Washington University in St. Louis. Dr. Gratton is interested in large-scale brain networks and how they give rise to complex human behaviors. Her research program seeks to characterize how human brain networks are organized, how they contribute to the myriad goal-directed behaviors that are essential to our daily lives, and how these processes break down with damage and disease. In her work, she employs a variety of methodologies, including functional magnetic resonance imaging (fMRI) and electroencephalography (EEG) to track the spatial and dynamic characteristics of brain activity, and transcranial magnetic stimulation (TMS), recordings from patient populations, and pharmacological manipulations to study perturbations of brain systems.
Live Stream:
click to see full description

more
click to hide full description

less
Wednesday, April 3, 2019 at 12:00 PM - 1:00 PM
Lower Level, Chambers Hall Map
Northwestern Institute on Complex Systems (NICO)