Events
WED@NICO SEMINAR: Lightning Talks with Northwestern Post Doctoral Fellows and Scholars!
Northwestern Institute on Complex Systems (NICO)
12:00 PM
//
Lower Level, Chambers Hall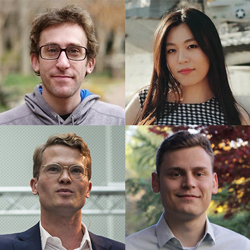 Speakers:
Joshua Becker - Post Doctoral Fellow, Kellogg and NICO
Yixue Wang - Ph.D. Student, Technology and Social Behavior
Frank van der Wouden - Post Doctoral Fellow, Kellogg and NICO
Igor Zakhlebin- Ph.D. student, Technology and Social Behavior
Abstracts and Bios:

Joshua Becker - Collected vs Collective Intelligence in the Wisdom of Crowds
Abstract: A common assumption in research on the wisdom of crowds is that in order to produce accurate decisions, groups must be composed of individuals who are socially and statistically independent. However, our research shows both computationally and experimentally that social influence can improve belief accuracy, as long as people are embedded in decentralized communication networks. These results hold in domains such as financial forecasting, physician diagnoses, and even political belief formation in echo chambers.
Bio: Joshua Becker is a postdoctoral fellow at NICO and the Kellogg School of Management specializing in collective intelligence. Their current research focuses on the "wisdom of crowds" and seeks to understand how social information processing impacts belief accuracy. Joshua's mix of formal theoretical models and web-based experiments has been published in venues including Science and the Proceedings of the National Academy of Sciences.
Yixue Wang - The Role of Professional Feedback in Online News Comment Quality and Engagement
Abstract: News commenting is a prevalent form of online interaction, but it is fraught with issues, such as a low quality of discussion that often takes place. While various forms of moderation can be used to maintain quality, one technique that is underexplored is the role of professional feedback in normative signaling that helps set quality expectations for commenters. This talk will present an analysis of more than 13 million NYT comments and provide evidence that professional feedback in the form of NYT Picks is associated with an increase in quality and frequency of user commenting.
Bio: Yixue Wang is a second-year Ph.D. student in the Technology and Social Behavior program at Northwestern, focusing on computational journalism and social science. She analyzes human behavioral data as a means to enhance diversity, maintain civility and eliminate biases. She is a member of the Computational Journalism Lab at Northwestern, a Data Science fellow at Northwestern Data Science Initiative, and was a data engineer at a political analytics startup before her Ph.D.
Frank van der Wouden - The Adjacent Possible: Why some technological combinations are driving innovation
Abstract: Why are some technological combinations driving innovation? From all possible technological combinations, only very few occur. We use 7.8 million US patents to build networks of technological co-occurrence. We find that technologies sharing a common neighbor are most likely to be introduced in subsequent years. This is because inventors with experience in the commonly shared technology recognizes its value.
Bio: Frank van der Wouden is a post-doctoral research at Kellogg School of Management and NICO. He is interested in networks of collaboration, technological evolution and the spatial distribution of economic activities.
Igor Zakhlebin - Diffusion of Scientific Articles across Online Media
Abstract: Based on millions of social media posts, news articles, blog entries and other web pages, we quantify the cross-medium dynamics and structure of diffusion for scientific articles. We find that initial bursts of posting activity tend to co-occur in time across media, which helps us determine the speed at which individual media pick up scientific information. We use a network inference algorithm to study the underlying structure of diffusion and analyze the structure of the resulting network.
Bio: Igor is a PhD student in Technology and Social Behavior, a joint degree in Computer Science and Communication. He works with mentions of scientific research on social media to understand how information cascades originating in different media interact with each other as well as the role of individual users in dissemination of such information.
Live Stream:
click to see full description

more
click to hide full description

less
Wednesday, March 6, 2019 at 12:00 PM - 1:00 PM
Lower Level, Chambers Hall Map
Northwestern Institute on Complex Systems (NICO)