Events
CANCELLED - POSTPONED to April 24: WED@NICO SEMINAR: Monica Olvera de la Cruz, Northwestern University "Puzzles in molecular electrolytes"
Northwestern Institute on Complex Systems (NICO)
12:00 PM
//
Lower Level, Chambers Hall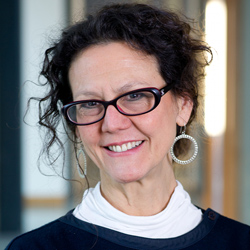 ***DUE TO IMPENDING INCLEMENT WEATHER, THIS EVENT HAS BEEN RESCHEDULED FOR WEDNESDAY, APRIL 24TH.***
Speaker:
Monica Olvera de la Cruz, Lawyer Taylor Professor of Materials Science and Engineering, Northwestern University
Title:
Puzzles in molecular electrolytes
Abstract:
Molecular electrolytes have been particularly difficult to describe theoretically given the presence of dielectric heterogeneities and the large number of disparate length scales involved in determining their physical properties. The Debye length, the Bjerrum length, the ion size, the molecular structure, and the special charge distribution determine their structure and their response to external fields. Here we describe a multi-scale approach to describe polymer electrolytes in bulk, solutions and at interface and provide a conceptual understanding of how charge dictates nano-scale structure formation.
Speaker Bio:
Monica Olvera de la Cruz obtained her B.A. in Physics from the UNAM, Mexico, in 1981, and her Ph.D. in Physics from Cambridge University, UK, in 1985. She joined Northwestern University in 1986, where she is the Lawyer Taylor Professor of Materials Science & Engineering, Professor of Chemistry, of Physics and Astronomy, and of Chemical & Biological Engineering. She is the Director of the Center for Computation and Theory of Soft Materials. From 1995-97 she was a Staff Scientist in the Commissariat a l'Energie Atomique, Saclay, France, where she also held visiting scientist positions in 1993 and in 2003. She is a member of the National Academy of Sciences, the American Academy of Arts and Sciences and a fellows of the American Physical Society. She was awarded numerous award and is currently a Senior Editor for the ACS Central Science. She has developed theoretical models to determine the thermodynamics, statistics and dynamics of macromolecules in complex environments including multicomponent solutions of heterogeneous synthetic and biological molecules, and molecular electrolytes.
Live Stream:
click to see full description

more
click to hide full description

less
Wednesday, January 30, 2019 at 12:00 PM - 1:00 PM
Lower Level, Chambers Hall Map
Northwestern Institute on Complex Systems (NICO)