Events
WED@NICO SEMINAR: Luis Amaral, Northwestern University "A, hopefully, thoughtful soapbox talk"
Northwestern Institute on Complex Systems (NICO)
12:00 PM
//
Lower Level, Chambers Hall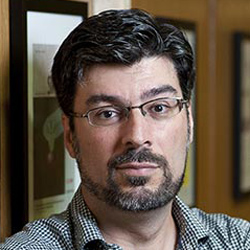 Speaker:
Luis Amaral, Professor of Chemical and Biological Engineering and Co-Director of the Northwestern Institute on Complex Systems, Northwestern University
Title:
A, hopefully, thoughtful soapbox talk
Abstract:
As a young scientist, I was mostly focused on my own field, my own research, and my own success. As I have aged, and took increasing responsibility for trainees and institutions, it has become more and more important to me to think about the state of the entire scientific enterprise. It has helped me that I have long had an interest in the history of science and in the stories of science.
Being fair, the science enterprise has never been as diverse, broad, rich, or exciting. Being idealistic, it is impossible to ignore the numerous ways in which science is still the province of white males, focused on topics decided by a small cohort, or pushed in the short term by concerns having little to do with search for truth.
As a way to make some of this issues concrete, I will describe some of my lab's research on gender diversity in science and beyond. I will explain why this topic matters to me and why I find it a litmus test of the progress of the scientific enterprise.
Speaker Bio:
Professor Amaral, a native of Portugal, conducts and directs research that provides insight into the emergence, evolution, and stability of complex social and biological systems. His research aims to address some of the most pressing challenges facing human societies and the world's ecosystems, including the mitigation of errors in healthcare settings, the characterization of the conditions fostering innovation and creativity, or the growth limits imposed by sustainability.
Recently, Amaral proposed the development of cartographic methods for the representation of complex biological networks. These methods will enable researchers to to glean the important information on a given system at the scale of interest to the researcher. These tools hold the promise to enable biomedical researcher to design or re-engineer biological systems for therapeutic purposes.
Professor Amaral has published over a 150 scientific peer-reviewed papers in leading scientific journals. Those papers have been cited in excess of 15 thousand times. His research has been featured in numerous media sources, both in the US and abroad. Professor Amaral has received a CAREER award from the National Institutes of Health, was named a Distinguished Young Scholars in Medical Research by the W. M. Keck Foundation, and has been selected as an Early Career Scientist by the Howard Hughes Medical Institute. He is a Fellow of the American Physical Society and of the American Association for the Advancement of Science.
Live Stream:
click to see full description

more
click to hide full description

less
Wednesday, January 16, 2019 at 12:00 PM - 1:00 PM
Lower Level, Chambers Hall Map
Northwestern Institute on Complex Systems (NICO)
WED@NICO SEMINAR: Speakers TBA in January!
Northwestern Institute on Complex Systems (NICO)
12:00 PM
//
Lower Level, Chambers Hall
The Wednesday@NICO speaker series will return on January 25, 2023 in Chambers Hall and on Zoom. Please check back in January for the full list of speakers.

We appreciate recommendations from the NICO community. To suggest a speaker for winter or spring, please fill out this survey: https://bit.ly/NICOSpeakers
Location:
In person: Chambers Hall, 600 Foster Street, Lower Level
Remote option: A Zoom link will be provided
About the Speaker Series:
Wednesdays@NICO is a vibrant weekly seminar series focusing broadly on the topics of complex systems and data science. It brings together attendees ranging from graduate students to senior faculty who span all of the schools across Northwestern, from applied math to sociology to biology and every discipline in-between. Please visit: https://bit.ly/WedatNICO for information on future speakers.
click to see full description

more
click to hide full description

less
Wednesday, January 25, 2023 at 12:00 PM - 1:00 PM
Lower Level, Chambers Hall Map
Northwestern Institute on Complex Systems (NICO)