Events
WED@NICO SEMINAR: Nicholas Diakopoulos, Northwestern University "The Role of Algorithmic Intermediaries in Shaping Attention to News Information"
Northwestern Institute on Complex Systems (NICO)
12:00 PM
//
Lower Level, Chambers Hall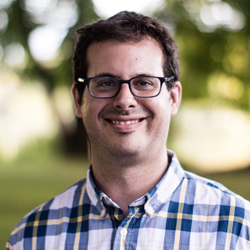 Speaker:
Nicholas Diakopoulos, Assistant Professor, School of Communication, Northwestern University
Title:
The Role of Algorithmic Intermediaries in Shaping Attention to News Information
Abstract:
As people seek news information online, platforms like Google, Facebook, and other news aggregators mediate and influence a substantial proportion of human attention, acting as algorithmic gatekeepers and curators. But as private platforms, there are few public details about how the algorithms of these information intermediaries serve to drive public exposure and salience of news information. What types and sources of news are made available and prioritized, and are there diverse perspectives represented in the algorithmic curation of major platforms? This talk will address these questions by presenting the results of several audit studies of algorithmic news intermediaries. These studies shed light on the role that intermediaries play in the diversity of news exposure based on source and ideology, and quantify the impact of news exposure on human attention. Implications for platform power, governance, and the economic health and competitiveness in the larger news ecosystem will be discussed.
Speaker Bio:
Nicholas Diakopoulos is an Assistant Professor in the School of Communication and (by courtesy) in the Division of Computer Science at Northwestern University, where he is Director of the Computational Journalism Lab (CJL). He is also a Tow Fellow at Columbia University School of Journalism as well as Associate Professor II at the University of Bergen Department of Information Science and Media Studies. He received his Ph.D. in Computer Science from the School of Interactive Computing at Georgia Tech where he co-founded the program in Computational Journalism. His research is in computational and data journalism with active research projects on (1) algorithmic accountability and transparency, (2) automation and algorithms in news production, and (3) social media in news contexts. He is the author of Automating the News: How Algorithms are Rewriting the Media forthcoming from Harvard University Press in 2019.
Live Stream:
click to see full description

more
click to hide full description

less
Wednesday, November 14, 2018 at 12:00 PM - 1:00 PM
Lower Level, Chambers Hall Map
Northwestern Institute on Complex Systems (NICO)