Events
WED@NICO SEMINAR: Ágnes Horvát, Northwestern University "Early Signals for the Wisdom of Crowds in Crowdfunding"
Northwestern Institute on Complex Systems (NICO)
12:00 PM
//
Lower Level, Chambers Hall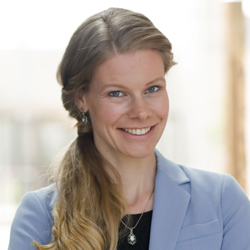 Speaker:
Ágnes Horvát, Assistant Professor, School of Communications, Northwestern University
Title:
Early Signals for the Wisdom of Crowds in Crowdfunding
Abstract:
Crowds have been argued to possess transformative collective intelligence benefits that allow superior decision-making by untrained individuals working in low-information environments. Classic wisdom of crowds theories are based on the study of large groups of diverse and independent decision-makers. Yet, most human decisions are reached in arrangements that violate these criteria. This observation puts forth a key question: Are there new expressions of collective intelligence that enable better outcomes? In this talk, we explore whether crowds furnish collective intelligence benefits in crowdfunding systems. Crowdfunding has grown and diversified quickly over the past couple of years expanding from funding aspirant creative works and supplying pro-social donations to enabling large citizen-funded urban projects and providing commercial interest-based unsecured loans. In the latter setting we find evidence for collective intelligence signals in financing: Opinion diversity, herding patterns, and information aggregation speed predict who gets funded and who repays even after accounting for traditional measures of creditworthiness and differences in the novelty of projects. Most importantly, crowds work well in correctly assessing the outcome of high risk projects. Furthermore, collective intelligence indicators serve as early warning signals when inferring success based solely on the initial part of the crowdfunding campaign. These findings broaden on the one hand the field of crowd-aware system design and inform discussions about the augmentation of traditional financing systems with tech innovations. On the other hand, they contribute to the growing literature on the wisdom of crowds.
Speaker Bio:
Ágnes Horvát is an Assistant Professor in the Department of Communication Studies at Northwestern University. She is also an affiliated faculty of the Northwestern Institute on Complex Systems (NICO) and the Department of Management and Organizations of the Kellogg School of Management (by courtesy). Her current research focuses on measuring and forecast the collective behavior of interconnected crowds in peer-to-peer platforms. She develops empirical and theoretical methods to identify expressions of collective intelligence and opportunities for innovation in crowdsourcing communities, detect shared misconceptions and biases in online capital markets, as well as support creativity and predict success in creative industries. Horvát has been the recipient of many fellowships and academic excellence awards, most recently a CISE CRII award from the National Science Foundation.
Live Stream:
click to see full description

more
click to hide full description

less
Wednesday, October 31, 2018 at 12:00 PM - 1:00 PM
Lower Level, Chambers Hall Map
Northwestern Institute on Complex Systems (NICO)
WED@NICO SEMINAR: Speakers TBA in January!
Northwestern Institute on Complex Systems (NICO)
12:00 PM
//
Lower Level, Chambers Hall
The Wednesday@NICO speaker series will return on January 25, 2023 in Chambers Hall and on Zoom. Please check back in January for the full list of speakers.

We appreciate recommendations from the NICO community. To suggest a speaker for winter or spring, please fill out this survey: https://bit.ly/NICOSpeakers
Location:
In person: Chambers Hall, 600 Foster Street, Lower Level
Remote option: A Zoom link will be provided
About the Speaker Series:
Wednesdays@NICO is a vibrant weekly seminar series focusing broadly on the topics of complex systems and data science. It brings together attendees ranging from graduate students to senior faculty who span all of the schools across Northwestern, from applied math to sociology to biology and every discipline in-between. Please visit: https://bit.ly/WedatNICO for information on future speakers.
click to see full description

more
click to hide full description

less
Wednesday, January 25, 2023 at 12:00 PM - 1:00 PM
Lower Level, Chambers Hall Map
Northwestern Institute on Complex Systems (NICO)