Events
WED@NICO SEMINAR: Jana Diesner, University of Illinois at Urbana-Champaign "Responsible Social Computing"
Northwestern Institute on Complex Systems (NICO)
12:00 PM
//
Lower Level, Chambers Hall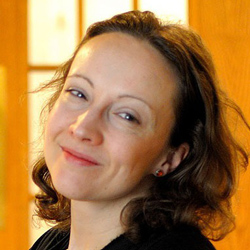 Speaker:
Jana Diesner, Associate Professor, University of Illinois at Urbana-Champaign, School of Information Sciences
Title:
Responsible Social Computing
Abstract:
Social Computing combines the benefits of large-scale data analytics with the consideration of societal implications and ethical concerns. I present on my group's research on the following question:
1) How do limitations related to the provenance and quality of big social data impact scientific results? I present on the impact of commonly used techniques for name disambiguation on the properties and dynamics of networks, highlight measurement-induced biases in metrics and theories, and address means for mitigating these limitations.
2) How can we assess the impact of information and science on people and society beyond using bibliometric methods? I present our work on a) predicting the impact of issue-focused media on individual behavior, cognition, and emotions, and b) measuring the long-term impact of grant-funded, scientific research on society.
3) When working with human-centered and online data, how can we comply with data governance regulations while still innovating? I discuss our work on enhancing the awareness, knowledge, and skills for considering the broad range of rules that apply to collecting and using digital social data in responsible and practical ways.
Overall, this work contributes to the discovery of patterns of interactions between people and information; making sense of qualitative, distributed, and multi-modal data in a scalable way; and advancing the transparency, responsibility, and ethics of computing and technology.
Speaker Bio:
Jana Diesner is an Associate Professor at the School of Information Sciences at the University of Illinois at Urbana-Champaign. Diesner's research in social computing and human-centered data science combines methods from natural language processing, social network analysis, and machine learning with theories from the social sciences, humanities, and linguistics to advance knowledge and discovery about interaction-based and information-based systems. Currently, together with her group, she is working on projects related to 1) biases in data, technology and human decision making, 2) data governance, 3) validating social science theories in contemporary settings, 4) impact assessment, and 5) crisis informatics. Recent recognition for her research expertise includes a Linowes Fellowship from the Cline Center for Advanced Social Research at Illinois (2018), a R.C. Evans Data Analytics Fellowship from the Deloitte Foundation Center for Business Analytics at UIUC (2018), and an appointment as the CIO Scholar for Information Research & Technology at Illinois (2018). Diesner has published more than 55 referred articles. She got her PhD (2012) from the School of Computer Science at Carnegie Mellon University.
Live Stream:
click to see full description

more
click to hide full description

less
Wednesday, October 17, 2018 at 12:00 PM - 1:00 PM
Lower Level, Chambers Hall Map
Northwestern Institute on Complex Systems (NICO)
WED@NICO SEMINAR: Speakers TBA in January!
Northwestern Institute on Complex Systems (NICO)
12:00 PM
//
Lower Level, Chambers Hall
The Wednesday@NICO speaker series will return on January 25, 2023 in Chambers Hall and on Zoom. Please check back in January for the full list of speakers.

We appreciate recommendations from the NICO community. To suggest a speaker for winter or spring, please fill out this survey: https://bit.ly/NICOSpeakers
Location:
In person: Chambers Hall, 600 Foster Street, Lower Level
Remote option: A Zoom link will be provided
About the Speaker Series:
Wednesdays@NICO is a vibrant weekly seminar series focusing broadly on the topics of complex systems and data science. It brings together attendees ranging from graduate students to senior faculty who span all of the schools across Northwestern, from applied math to sociology to biology and every discipline in-between. Please visit: https://bit.ly/WedatNICO for information on future speakers.
click to see full description

more
click to hide full description

less
Wednesday, January 25, 2023 at 12:00 PM - 1:00 PM
Lower Level, Chambers Hall Map
Northwestern Institute on Complex Systems (NICO)