Events
WED@NICO SEMINAR: Srividya Iyer-Biswas, Purdue University "Emergent laws governing stochastic single-cell dynamics"
Northwestern Institute on Complex Systems (NICO)
12:00 PM
//
Lower Level, Chambers Hall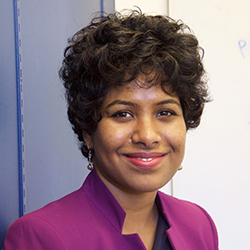 Speaker:
Srividya Iyer-Biswas, Assistant Professor, Purdue University, Department of Physics and Astronomy
Title:
Emergent laws governing stochastic single-cell dynamics
Abstract:
There has been a longstanding quest to uncover the quantitative laws governing the stochastic growth and division of individual cells. While great strides have been made in unravelling and modeling the details of the gene regulatory networks which dictate growth and division for different organisms, there is regrettable paucity of quantitative physical laws derived from the complementary "top down" perspective. Introducing the unique combination of technologies that facilitated probing these stochastic cellular dynamics with unprecedented precision, I will first summarize the "scaling laws" that govern fluctuations in growth and division of individual cells under steady-state growth conditions. Taking the minimalist perspective, I will argue for how these scaling laws reveal an elegant physical principle governing these complex biological processes: a single cellular unit of time, which scales with external conditions, governs all aspects of stochastic cell growth and division at a given condition. I will then focus on applications of the technology to probe more complex growth conditions, the corresponding generalizations of the physical principle, and the implications for the underlying biological systems design. Finally, I propose an integrative perspective of microbial growth dynamics under balanced conditions, by introducing a multi-scale theoretical framework that takes observables at both scales, single-cell and population, into account. Time permitting, I will make connections with energetic costs of cellular information processing.
Speaker Bio:
Using rapid, iterative feedback between theory and experiments, Srividya Iyer-Biswas works to discover the basic physical laws that govern the probabilistic behavior of single cells, and that transcend details of specific biological systems. Her research uses a top-down physics approach, rather than more traditional approaches that focus on the cartography of genetic networks and on molecular details.
Iyer-Biswas and her team have reported predicative scaling laws governing the stochastic growth and division of cells, and have developed a theory that reveals the emergence of a scalable, cellular unit of time. Her current work involves extending these results to thermodynamics of organismal computation, time-dependent phenomena involving cellular decision-making, and laws that dictate complex biological and social phenomena. Iyer-Biswas began her career as a theoretical physicist, then transitioned to experimental biophysics as a post-doc at Princeton University and the University of Chicago. She is currently an Assistant Professor in Purdue University's Department of Physics and Astronomy.
About the Speaker Series:
Wednesdays@NICO is a vibrant weekly seminar series focusing broadly on the topics of complex systems and data science. It brings together attendees ranging from graduate students to senior faculty who span all of the schools across Northwestern, from applied math to sociology to biology and every discipline in-between.
click to see full description

more
click to hide full description

less
Wednesday, October 3, 2018 at 12:00 PM - 1:00 PM
Lower Level, Chambers Hall Map
Northwestern Institute on Complex Systems (NICO)