Events
WED@NICO SEMINAR: Sarah Bouchat, Northwestern University "Making A Long Story Short: Eliciting Prior Information & Mapping Knowledge in Previously Published Research"
Northwestern Institute on Complex Systems (NICO)
12:00 PM
//
Lower Level, Chambers Hall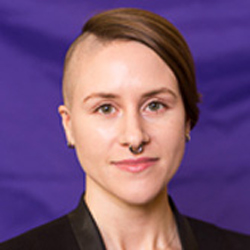 Speaker:
Sarah Bouchat, Assistant Professor, Department of Political Science, Northwestern University
Title:
Making A Long Story Short: Eliciting Prior Information & Mapping Knowledge in Previously Published Research
Abstract:
This paper provides a new method for mapping domains of knowledge and rigorously incorporating previous findings into current social science research using text-as-data to "elicit" prior information from previously published studies. Previous research often informs the expected direction and magnitude of effects in regression analyses, yet no research to date provides a systematic account for how and in what ways researchers can instantiate the findings of already-published work (whether qualitative or quantitative) into formal point estimates, prior distributions, or systematic summaries. The challenges of incorporating past research findings into current work apply across fields, but are particularly acute in social science settings where a significant body of research is exclusively qualitative. This paper details a text-as-data approach to extract quantified summaries from published studies, with direct applications to Bayesian modeling as well as meta-analysis.
Speaker Bio:
Sarah Bouchat is an Assistant Professor & College Fellow at Northwestern University, having completed a PhD in the Department of Political Science at the University of Wisconsin–Madison in 2017. With research interests in political methodology, comparative political economy, and authoritarian politics with a regional focus on Southeast Asia, Sarah's current work focuses on machine learning and Bayesian statistical applications, including prior elicitation, nonparametrics, and text-as-data, for the study of low information, authoritarian regimes like Myanmar.
About the Speaker Series:
Wednesdays@NICO is a vibrant weekly seminar series focusing broadly on the topics of complex systems and data science. It brings together attendees ranging from graduate students to senior faculty who span all of the schools across Northwestern, from applied math to sociology to biology and every discipline in-between.
Live Stream:
click to see full description

more
click to hide full description

less
Wednesday, May 9, 2018 at 12:00 PM - 1:00 PM
Lower Level, Chambers Hall Map
Northwestern Institute on Complex Systems (NICO)