Events
WED@NICO SEMINAR: Jon Atwell, Northwestern University "The Value of Niches for the Stabilization of Novelty"
Northwestern Institute on Complex Systems (NICO)
12:00 PM
//
Lower Level, Chambers Hall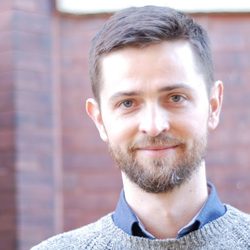 Speaker:
Jon Atwell, Data Science Scholar, Northwestern University
Title:
The Value of Niches for the Stabilization of Novelty: Combining Niche Construction and Hypercycles
Abstract:
Novel technologies, processes, and practices are often the recombination of existing components. Understanding the antecedents and drivers of recombination is already a thriving area of research, but in this talk I consider the staying power of a new recombination. The long term success of a recombination depends on actors' ability to stabilize a production network around it, a challenging problem of self-organization. This problem has a great deal in common with the emergence of macromolecules in prebiotic chemistry, but the canonical model of that process—the hypercycle—suffers from a hard complexity barrier at which self-organization ceases to be possible. I show, however, that if the hypercycle is structuring its own environment, this barrier recedes and production networks of much greater complexity are able to stabilize. This result draws on the mathematics of the evolutionary process of niche construction and highlights the potential importance of niches for understanding processes of self-organization in social settings. Results from a large-group behavioral experiment on the self-organization of a social convention support this view and will also be discussed.
Speaker Bio:
Jon Atwell is a sociologist who studies the social dimensions of cognition and the dynamic emergence of social order using computational and mathematical techniques. Jon received his PhD from the University of Michigan in 2017, where he was an NSF IGERT fellow with the Center for the Study of Complex Systems. He is now a Data Science Scholar at Northwestern University with appointments with the Institute for Policy Research and the Northwestern Institute on Complex Systems. He has B.A.s in Math, Economics and Philosophy from the University of Wisconsin and worked in the restaurant industry before starting this career.
About the Speaker Series:
Wednesdays@NICO is a vibrant weekly seminar series focusing broadly on the topics of complex systems and data science. It brings together attendees ranging from graduate students to senior faculty who span all of the schools across Northwestern, from applied math to sociology to biology and every discipline in-between.
Live Stream:
click to see full description

more
click to hide full description

less
Wednesday, April 25, 2018 at 12:00 PM - 1:00 PM
Lower Level, Chambers Hall Map
Northwestern Institute on Complex Systems (NICO)