Events
WED@NICO SEMINAR: Brian Munsky, Colorado State University "Measuring and Predicting the Central Dogma of Molecular Biology - One Molecule at a Time"
Northwestern Institute on Complex Systems (NICO)
12:00 PM
//
Lower Level, Chambers Hall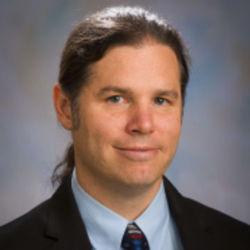 Speaker:
Brian Munsky, Assistant Professor. Chemical and Biological Engineering, Colorado State University
Title:
Measuring and Predicting the Central Dogma of Molecular Biology - One Molecule at a Time
Abstract:
Modern experimental advances have made it possible to measure DNA, RNA, and protein dynamics at the level of single molecules in single cells. These discrete data are often noisy, but they can be highly informative, especially when they are combined with advanced computational models. I will present a few recent advances in the integration of discrete stochastic models with different single-cell assays. First, I will introduce modern single-molecule experiments that are used to quantify mRNA and protein dynamics in fixed or live cells. Next, we will discuss the derivation of strict bounds on the likelihood that observed single-cell data could have come from hypothesized regulatory models, and we will show how these bounds can be used to reduce computational efforts with no sacrifice to accuracy or precision. Then we will explore new computational approaches to design optimal single-cell experiments to maximize the expected information contained within an experiment. We will illustrate the integration of these experimental and computational tools to build predictive models for mechanistic biochemical processes in yeast and human cells, including spatiotemporal cell-signaling, single-gene transcription activation, nascent mRNA elongation, mRNA transport, mRNA-translation activation, and sequence-dependent nascent protein elongation. Finally, we will discuss how discrete stochastic quantitative models can be used to extend the capabilities of super-resolution microscopy and make it possible to measure more molecular species within a single experiment.
Speaker Bio:
Brian Munsky earned B.S. and M.S. degrees in Aerospace Engineering from Penn State University in 2000 and 2002, and a Ph.D. in Mechanical Engineering from UC Santa Barbara in 2008. He then conducted research at the Los Alamos National Laboratory — as a Director's Postdoctoral Fellow (2008-2010), as a Richard P. Feynman Distinguished Postdoctoral Fellow in Theory and Computing (2010-2013), and as a Staff Scientist (2013). Dr. Munsky joined the Department of Chemical and Biological Engineering and the School of Biomedical Engineering as an assistant professor in 2014. Brian is best known for his discovery of Finite State Projection algorithm, which has enabled inference of efficient and predictive models of single-cell gene regulation in bacteria, yeast and human cells. Brian was the recipient of the 2008 UCSB Department of Mechanical Engineering best Ph.D. Dissertation award, the 2010 Leon Heller Postdoctoral Publication Prize, and the 2012 LANL Postdoc Distinguished Performance Award for his work in this topic. Since joining CSU, Brian has received multiple research grants including the W M Keck Foundation grant (co-PI with Dr. Timothy Stasevich at CSU) and the NIH-NIGMS Maximizing Investigators' Research Award (MIRA) for Early State Investigators. Dr. Munsky is also the contact organizer of the internationally recognized, NIH-funded q-bio summer school, where he runs single-cell stochastic gene regulation (q-bio.org).
About the Speaker Series:
Wednesdays@NICO is a vibrant weekly seminar series focusing broadly on the topics of complex systems and data science. It brings together attendees ranging from graduate students to senior faculty who span all of the schools across Northwestern, from applied math to sociology to biology and every discipline in-between.
Live Stream:
click to see full description

more
click to hide full description

less
Wednesday, April 18, 2018 at 12:00 PM - 1:00 PM
Lower Level, Chambers Hall Map
Northwestern Institute on Complex Systems (NICO)