Events
WED@NICO SEMINAR: Elena Zheleva, U of I Chicago "Personalization of Social Sharing"
Northwestern Institute on Complex Systems (NICO)
12:00 PM
//
Lower Level, Chambers Hall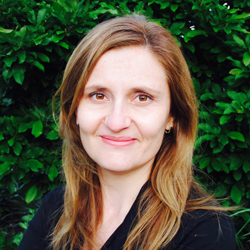 Speaker:
Elena Zheleva, Assistant Professor, Department of Computer Science, University of Illinois at Chicago
Title:
Personalization of Social Sharing
Abstract:
The abundance of personal data that people share online provides an opportunity to study social phenomena at a large scale. It also enables the development of a new category of information technology products, ones that are powered by data and sophisticated user models. Data science products range from personalized recommendations to fostering healthy online communities, and they bring together advances in machine learning, causal inference, and big data technologies. In this talk, I will go over my recent work on using data science to study social sharing incentives and personalization, and briefly discuss the privacy implications of machine learning algorithms for social media users and businesses.
Speaker Bio:
Elena Zheleva is an assistant professor in Computer Science at the University of Illinois at Chicago. Her research interests span data science, machine learning, causal inference, network science, and online privacy. She has presented her research at top-tier conferences, such as KDD, WSDM, and WWW, and she is the coauthor of the book "Privacy in Social Networks." Her experience includes building and managing a data science team at an e-commerce company, and working on initiatives at the intersection of public policy and data science at NSF. She obtained her Ph.D. in Computer Science from the University of Maryland College Park in 2011
About the Speaker Series:
Wednesdays@NICO is a vibrant weekly seminar series focusing broadly on the topics of complex systems and data science. It brings together attendees ranging from graduate students to senior faculty who span all of the schools across Northwestern, from applied math to sociology to biology and every discipline in-between.
Live Stream:
click to see full description

more
click to hide full description

less
Wednesday, February 28, 2018 at 12:00 PM - 1:00 PM
Lower Level, Chambers Hall Map
Northwestern Institute on Complex Systems (NICO)