Events
WED@NICO SEMINAR: Michelle Driscoll, Northwestern University "Mind the gap"
Northwestern Institute on Complex Systems (NICO)
12:00 PM
//
Lower Level, Chambers Hall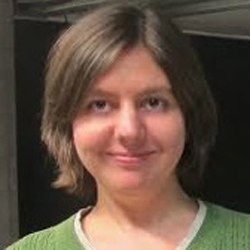 Speaker:
Michelle Driscoll, Assistant Professor, Department of Physics and Astronomy, Northwestern University
Title:
Mind the gap: a cascade of instabilities created by rotating beads near a floor
Abstract:
Does a rotating bead always spin in place? Not if that bead is near a surface: rolling leads to translational motion, as well as very strong flows around the bead, even quite far away. These flows strongly couple the motion of nearby microrollers (rotating beads), which leads to a rich variety of collective effects. Using experiments in tandem with large-scale 3D simulations, we have shown that driving a compact group of microrollers leads to a new kind of flow instability, whose wavelength is controlled not by the driving torque or the fluid viscosity, but a geometric parameter: the microroller's distance above the container floor. Furthermore, under the right conditions, stable, compact clusters we term "critters" can emerge from the unstable interface. Our simulations and experiments suggest that these critters are a stable state of the system, move much faster than individual rollers, and quickly respond to a changing drive. We believe that critters are unique in that they are clusters which form only with hydrodynamic interactions; no interparticle potentials are needed to create these structures. Furthermore, as compact, self-assembled structures which can easily be remotely guided, critters may offer a promising tool for microscopic transport.
Speaker Bio:
Michelle Driscoll, Assistant Professor in the Department of Physics and Astronomy, is a soft condensed matter experimentalist. Her research rests at the junction between soft-matter physics and fluid dynamics. The Driscoll Lab focuses on understanding how structure and patterns emerge in a driven system, how to control them, and how to use them to connect macroscopic behavior to microscopic properties. Driscoll's papers have been published in journals like Nature Physics and the Proceedings of the National Academy of Science, and she's been invited to give talks at physics colloquiums and soft matter seminars at a variety of institutions, from Georgetown University to the University of Chicago.
About the Speaker Series:
Wednesdays@NICO is a vibrant weekly seminar series focusing broadly on the topics of complex systems and data science. It brings together attendees ranging from graduate students to senior faculty who span all of the schools across Northwestern, from applied math to sociology to biology and every discipline in-between.
Live Stream:
click to see full description

more
click to hide full description

less
Wednesday, January 17, 2018 at 12:00 PM - 1:00 PM
Lower Level, Chambers Hall Map
Northwestern Institute on Complex Systems (NICO)