Events
WED@NICO SEMINAR: Esteban Moro, Universidad Carlos III de Madrid "The lifetime of strong ties in social networks"
Northwestern Institute on Complex Systems (NICO)
12:00 PM
//
Lower Level, Chambers Hall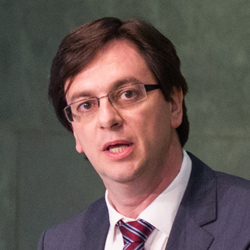 Title:
The lifetime of strong ties in social networks
Speaker:
Esteban Moro - Assistant Professor, Universidad Carlos III de Madrid
Talk Abstract:
While strong ties are of paramount important in processes like trust formation, cooperation, decision making, or community formation, little is known about what are the network and individual forces behind their formation and decay. In this talk I will present our recent research about how humans create and destroy ties dynamically and specifically, what is the typical lifetime of a strong tie in social networks. By analyzing the mobile phone communication network of about 20 million people over a long period of time of 19 months, we are able to see that humans have a constant capacity to maintain a number of social ties, which transalates into a constant creation and corresponding decay of ties. Thus, humans have very well defined dynamical social strategies (social keepers or social explorers) depending on how fast those relationships are created and destroyed. Furthermore we analyzed how strength of ties is built and destroyed in time. According to the famous "weak tie hypothesis" by Mark Granovetter, tie strength is correlated with its social embeddedness, but which one come first? Our research shows that once that a tie is created is reaches almost instantaneously its strength while its embeddedness slowly growths even months after tie formation, highlighting the fact that the Granovetter hypothesis is a dynamical process that happens at a very slow time scale in the network. We will also discuss the importance of our results for network interventions targeted at promoting behavior change or improving organizational performance.
Speaker Bio:
Esteban Moro is an associate professor at Universidad Carlos III de Madrid (Spain) and member of the Joint Institute UC3M-Santander on Big Data and academic director of the Master of Data Science and Big Data on Finance by AFI (Spain). Currently, he is a visiting professor at MIT Media Lab (US). he serves as a consultant for many public and private institutions and has held previously positions in University of Oxford, Institute of Knowledge Engineering (Spain), Instituto Mixto de Ciencias Matemáticas (Spain). Professor Moro earned his BSc in Physics from the University of Salamanca and a Ph.D in physics from Universidad Carlos III de Madrid. He has published over 50 articles and has led and participated in over 20 projects funded by government agencies and/or private companies. His areas of interests are applied mathematics, financial mathematics, viral marketing and social network. He received the "Shared University Award" from IBM in 2007 for modeling the spread of information in social networks and application to viral marketing. And a Research Excellence Award in 2013 and 2015 by the Carlos III University of Madrid. His recent work has been covered by many media outlets, including articles and interviews in newspapers like El Pais, Muy Interesante, The Atlantic, Washington Post, Wall Street Journal.
Live Stream:
click to see full description

more
click to hide full description

less
Wednesday, October 11, 2017 at 12:00 PM - 1:00 PM
Lower Level, Chambers Hall Map
Northwestern Institute on Complex Systems (NICO)